We believe whole-heartedly in reducing the suffering in this world, and giving back to our collective community is central to Guru's mission. As such, we encourage each member of the Guru Crew to engage in their local community and require that each person takes paid time off to volunteer at a non-profit of their choice.
Anna VanHorn, a talented Guru copywriter who is based in Northwest Arkansas, shares how she spent her volunteer time with Seeds that Feed. Read on to hear from Anna in her own words.
Seeds that Feed is a nonprofit organization that was dreamed up on a front porch by friends who shared a common urge to address the needs of our Northwest Arkansas community. Many nights were spent brainstorming how to help feed the food insecure in our area with not just food – but with fresh, healthy and nutritious foods, and in the process, reduce food waste. And while I can't take any credit for the brilliance that is Seeds that Feed, I was a frequenter of that front porch and I'm proud to call those innovative thinkers and problem solvers my friends.
So how do they do it?
Seeds that Feed collects fresh produce from Farmer's Markets, local farms and donors to distribute fresh, healthy food to those who need it. This allows food that would otherwise end up being thrown away or unnecessarily composted to instead go to those who need it the most.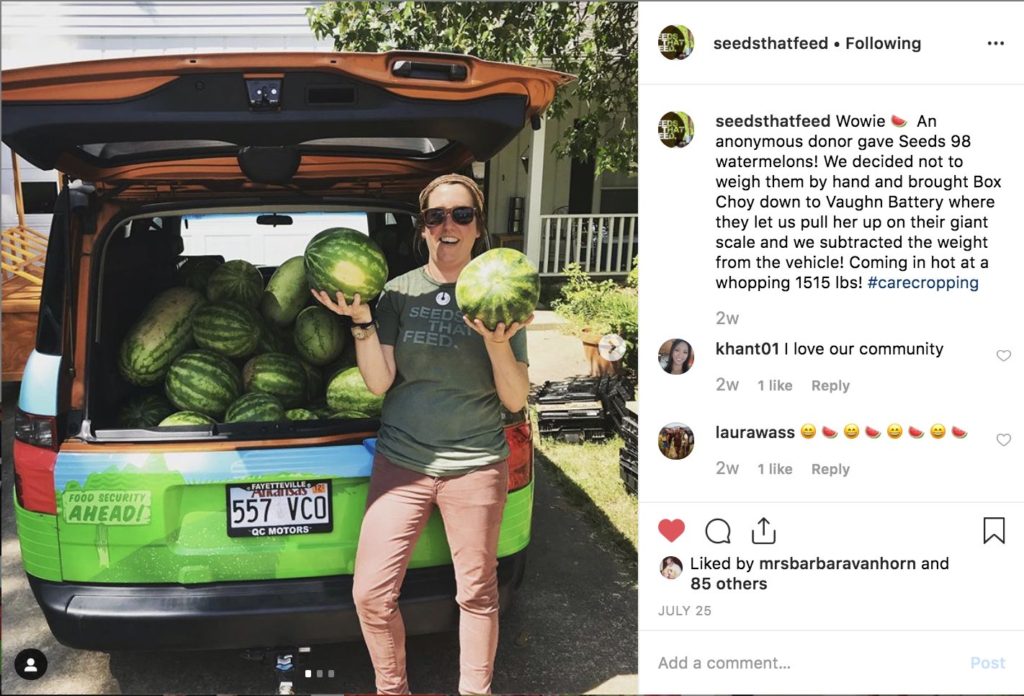 In our area, along with the rest of the country, there are countless households who can't afford to adequately feed themselves or their families – much less gain access to fresh, nutritious foods. As stated on their website, "Food insecurity, food waste, barriers to healthy eating, and ultimately a misallocation of resources, are problems that are present in nearly every community. Seeds That Feed was created to help bridge these gaps and grow a healthier community through our efforts."
To date, Seeds has distributed nearly 130 thousand pounds of produce and in 2018 alone, they donated 31,588 pounds of fresh food to those who need it! There are 44 different hunger relief locations that they serve including a Seeds that Feed "mobile pantry." Aka – a box truck that they drive around with donations to high-need areas where people can "shop" for what might not be available to them otherwise. Seeds that Feed also partners with 71 local farms.
Guru gives each of our team members paid time off to volunteer with the organization or cause of their choice. It was a no-brainer when it came time to choose where to focus my efforts. Rather than grabbing a bin and helping to distribute food, the Seeds that Feed folks said that my volunteer time would be most valuable to them by helping with their marketing strategy.
During our time together, we focused on their immediate goals of gaining the attention of more donors in order to expand their reach, as well as reaching out to new volunteers and donation recipients. We were able to create a simple marketing plan that focuses first on social media and PR, that will be easy for the organization to execute within their resources. We've also brainstormed some fundraising events and PR activations that will help garner the attention they need to reach their audiences and achieve their goals.
To continue my service to this organization, I am going to personally commit to creating content calendars for their social media needs and will be writing a lot of their preprogrammed social media content. And, I'm excited to announce that I will soon be joining the Seeds that Feed board of directors!
Thank you, Guru, for giving me the opportunity to use company time to help this organization that means so much to me! It means so much to work for a company that nurtures the individual passions of its employees and makes it easy for us to give back and contribute to efforts we hold dear.
You can learn more about and/or donate to Seeds that Feed at www.seedsfeed.org or by visiting them on social at Facebook https://www.facebook.com/CareCropping/ and Instagram @SeedsThatFeed.