Just Business, an investment company with headquarters in San Francisco, announced today that it has closed the seed round of its new Innovate For Good Fund. The $1.6m seed round is intended to accelerate the growth of early-stage enterprises that fit the mission of the fund to generate tangible impact while delivering a solid financial return for its investors.
Just Business is the independent investment arm of the international non-profit, Not For Sale. The investment firm is widely known for its incubation of REBBL, one of the most successful functional beverages in the USA market and a Guru client.
The Just Business "Origin Fund" also incubated Dignitá, a very successful restaurant enterprise headquartered in Amsterdam, and served as the sole investor to grow Square Organics.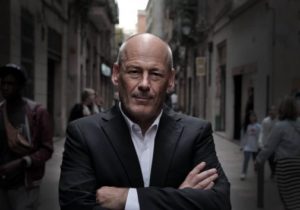 "We are dedicated to bring more dignity to people and planet," says David Batstone, the managing partner and co-founder of Just Business, "and the best way to do that is to embed that mission into the core of business enterprises that we believe can scale."
The Innovate For Good Fund has identified three investment opportunities in which it plans to invest:
Z Shoes Organic will receive growth capital from the Innovate For Good Fund. This fashion shoe enterprise is designed around the concept of "impact sourcing," deeply embedded in the supply chain work of the international non-profit Not For Sale

 to source latex and cotton from native communities from the Amazon of Peru. Not For Sale owns 5% of Z Shoes, and the company gives 2.5% of every sale to fuel Not For Sale's work around the world.

Another recipient of growth capital from the Innovate For Good Fund will be Relocity

, which deploys a very innovative technology and business model to reinvent corporate relocation.  Successful companies today are racing to secure the best talent, wherever those individuals might live.  Relocation services have not kept pace with needs of the mobility market. Relocity offers an on-demand concierge to meet the needs of an individual in relocation.  For every hour of billing, Relocity donates 1% to the work of Not For Sale to fulfill its mission in the community where that worker will be relocating.

Square Organics, a plant-based, organic snack company, is another impact company in which Innovate For Good plans to invest. The capital investment will enable the enterprise to extend its direct-to-consumer outreach to an engaged millenial audience and augment its visibility through retail channels.  Square Organics is committed to "impact sourcing" and dedicates 1% of each sale to Not For Sale.
The Innovate For Good Fund is advised by an investment committee comprised of five members, all of whom are personal investors in the fund: Batstone; Jostein Solheim, former CEO of Ben & Jerry's and now in senior leadership at Unilever, Head of the Foods & Refreshment Division for North America; Ray Lin, a senior partner at Latham & Watkins law firm; John Clair, a former director of supply chain and operations at Miller Brewing Company; and Mark Wexler, also co-founder of Just Business.
"I want to be participate in funds that have an economic mission to deliver a sustainable return to its shareholders, while at the same time being a force for good that will change the world," says Solheim.  
The Innovate For Good Fund touts many other highly influential impact investors, including "Gagan" (Jared) Levy, the chair of the Social Venture Network/Investor Circle and founder of the impact branding agency Guru.
Given the growth trajectory of its portfolio, Just Business anticipates raising more capital for the Innovate For Good Fund in mid-2019.
"We see so much opportunity to scale change," explains Wexler, who also serves as CEO of Not For Sale. "Great business models help us extend the benefits of capital, technology and talent to those people in the world who previously have been left out."